NSS
National Service Scheme(NSS) is a Government sponsored public service program working under Ministry of Youth Affairs and Sports. Popularly known as NSS, this scheme was launched in 1969, Gandhiji's Centenary year. The overall aim of National Service Scheme is to give an extension dimension to the higher education system and orient the student youth to community service while they are studying in educational institution.
NSS has been introduced at R.K.S.D(PG) College since 1984 as a part of the academic programs. Since then NSS has been functioning as a regular feature of the college education system. The College has three units of NSS comprising 100 students each. The aim of the scheme is to develop students' personality through community service. The program aims to inculcate the spirit of social welfare among students. The students joining this scheme develop many behavioral interactive skills which help to develop their all-round personality and make them socially responsible and patriotic citizens The students having N.S.S. merit certificate are entitled to 5% weightage for admission to the institutions of higher education.
NSS MOTO
       Not me, But you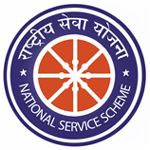 The symbol of NSS is based on the Konark wheel. NSS badge having 8 bars signifies the 24 hours of a the day, reminding the wearer to be ready for the service of the nation round the clock i.e. for 24 hours.
Red color in the badge signifies energy and spirit displayed by the NSS volunteers.
The Blue color signifies the cosmos of which the NSS is a tiny part, ready to contribute its share for the welfare of humanity.
REGULAR ACTIVITIES
Cleanliness Drive
Tree plantation
Awareness Rallies
Nukkad Natak on social problems
Blood donation camps
Observing the Days of National Importance
Awareness on Road Safety Rules
7 Days special camp in nearby village